Careers
Stumpy's Tree Service LLC is periodically in need of new team members to join us in our tree service business. We are seeking highly motivated individuals willing to share our focus on Safety and Service in a professional, drug free environment. Both part time and full time positions may be available for field operations as well as administrative operations; and openings may arise for either beginner or experienced applicants. Very brief job titles and descriptions follow. Contact us for greater detail.
Field Operations
Ground Crew Team Member: hauls wood & brush from tree to chipper or truck; feeds chipper; assists logger & other crew members; utilizes hand & power tools; may use some other equipment; cleans up job site; perform various shop tasks.
Ground Crew Team Leader: does all the same work as a GCTM, but also takes direction from job site leader and supervises Ground Crew Team to maintain safety and efficiency of operations.
Logger, Climber/Bucket Operator: trims, cuts, fells trees in a safe and efficient manner as job dictates; acts as job leader or works in conjunction with job leader or GCTL to prioritize the order of work and to accomplish the operation in the safest and most efficient manner.
Equipment Operator: as a member of the Ground Crew, performs functions of a GCTM, but also may operate material handling equipment such as material handlers, skid steers and track loaders.
Stump Grinder: operating either alone or possibly with a helper, safely and efficiently operates mechanical stump grinder to remove stumps as directed from various job sites; drives truck, trailer and equipment to various sites; responsible for proper securement of equipment to trailer; communicates with customer as needed; may also perform debris removal and lawn restoration (application of lime, topsoil, seed & straw) as work order dictates.
General Laborer: may perform work as required of GCTM as well as general labor at shop to include but not be limited to cleaning shop, vehicles, equipment, trailers, etc. and other tasks as may be required.
Maintenance Mechanic: part time position and/or traveling mechanic position; perform all routine maintenance on small engine equipment, hand tools, etc. and/or vehicles and primary arborist equipment as skills allow for.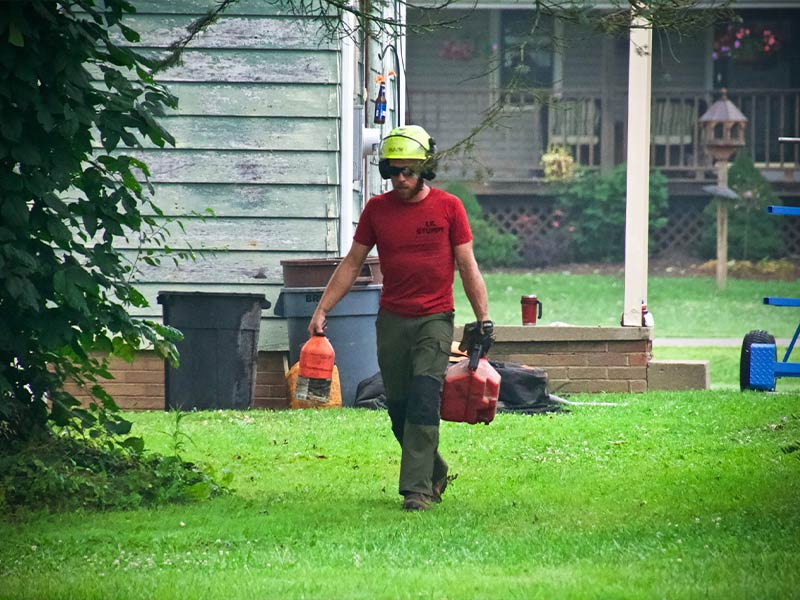 Administrative Operations
Estimator/Salesperson: respond to leads as provided by company and/or self-generated leads; visit jobsites to accurately determine costs and provide proposals to customers and sell the same when possible or appropriate; must know or learn the industry well enough to understand the conditions and challenges that impact the pricing of particular jobs; likely will be required to spend about 2 weeks working as a GCTM as part of training.
Administrative Assistant: performs various routine and special office functions to include telephone work; some inside sales & estimating (from prescribed scripts and formulas); data entry; creating estimates, work orders and invoices from company software; must be adept at use of typical office software programs; IT capabilities are a plus; virtual or remote work status may be an option.
Social Media Marketing Assistant: provide assistance with routine and consistent social media marketing on various platforms; assist with web site updates; possible job site photography required; other tasks consistent with this type of position as needed; IT capabilities are a plus; likely to be a virtual or remote work status.